Not only is Vietnam well-known for natural landscapes and ancient places, but also beautiful beaches. If you don't know which beach to choose, you can take a look at top 6 summer beaches in Vietnam below.
1. Tuan Chau Beach – Ha Long Bay
Tuan Chau is a beach located in Ha Long Bay and attracts domestic and foreign tourists on weekends. This currently is a winner of top summer beaches in Vietnam.

Tuan Chau Beach, located on the grounds of Tuan Chau Resort. It is quite clean and is sprayed with fine white sand. Hence, this is a great choice to create a large space for the collective activities and visitors' entertainment. Specially, sea waves here are not stretched and there are no white waves like other beaches.
Guests can come here to bathe, admire the Ha Long Bay and see the beauty of the resort which is meticulously crafted by human hands. The ideal time to swim in Tuan Chau is morning and even when light sun does not affect the health. Hence, visitors have the opportunity to watch the sunset of beautiful Ha Long Bay sparkling behind the island.
Finally, Tuan Chau beach equipped with many high-class services to meet the needs of visitors. Fresh water bath, tents, rescue staff will ensure the safety of visitors when playing on the sea. The fact that this is the only beach in Ha Long with automated bathing system. The price of a ticket for the beach is 40,000 VND / pass.
There are many games on the sea to attract tourists such as hot air balloon, windsurfing kites bay or taking a canoe around Tuan Chau island. Moreover, the beach also has dining area, bar, coffee for visitors after bathing time.
2. Thuan An Beach – Hue
Coming in Thuan An beach, visitors will have a chance to enjoy the beauty like a natural masterpiece of Hue. Thuan An beach attracts visitors with the scenery will change over time and the climate is special.
Thuan An is recognized as one of the 10 most beautiful beaches in Vietnam. It has a gentle beauty combined with fierceness. The beach originated from gentle and poetry Huong River pouring out. However, it is fierce when flowing to Tam Giang Lagoon.
The fact that it has a long stretch of white sand, absolutely no shell in here. Moreover, seawater in Thuan An seems saltier than other beaches on the central strip of land.
3. Lang Co Beach – Hue
Where is Lang Co beach
Lang Co Bay is 42.5 km long, more than 60 km from Hue City and 20 km from Da Nang. In 2009, Lang Co was honored to receive the title "Lang Co – World Beauty Bay" voted by the most beautiful bays club in the world (Worldbays). Although Lang Co tourism has been attracting domestic and foreign tourists, however this destination still retains the wild beauty and charm as early as.
Lang Co is a pristine bay located at the foot of Hai Van Pass, which owns a flat beach, gorgeous blue water and diverse ecosystems. Any visitors coming here are admired and overwhelmed. To Lang Co, tourists can get into the sight of the nature harmonizing with the peaceful pace of human life here.
Lang Co beach is a natural landscape of Thua Thien Hue province. Lang Co Beach has long been known as a beach with the most beautiful natural conditions and landscapes in Vietnam. There are white sandy beaches up to 10 km long, the beautiful blue sea and vast tropical forests on the undulating mountains.
This is a beach with the flat coast, white sand, medium and large waves, so it is suitable for the type of beach tourism, resort, diving, and has been identified as an ideal resort from several decades.
Learn how to get to Lang Co beach from Hue or Hoi An here.
What else you can see near the Lang Co beach
Located adjacent to Lang Co beach is Hai Van Mountain – Hai Van Quan is a famous landscape in Vietnam. Along Hai Van Mountain, Lang Co Beach has coral reefs, lobsters and a variety of high-value seafood. In this area, there is also Son Tra island, where many kinds of wildlife and plants are preserved. Behind the beach is Lap An Lake and Bach Ma Mountain. All of these factors give Lang Co a great potential for developing many types of tourism like scuba diving and exploration of fauna and flora.
4. My Khe Beach – Da Nang
Forbes magazine has voted for My Khe beach as one of the six most attractive beaches in the world. It can be said that My Khe beach has met the criteria of Forbes basic choices such as: traffic convenience, free open beach for all visitors, sandy beach with long and flat sand, sunshine and waves suitable for playing sports, able to ensure the safety of visitors, luxury resorts, villas of international standards…
Australia's Sunday Herald Sun newspaper rated My Khe Beach as one of the 10 most popular beaches in Asia. My Khe beach is about 900m long and the beach is the most bustling and very familiar to all local people as well as international tourists.
My Khe Beach is famous for its fine white sand, gentle waves, warm water all year round, and poetic coconut trees. Tourists can swim for almost all year, but the best time is summer, from May to August. Because the beach is not deep, guests feel reassuring while swimming and watching admire the majestic Ngu Hanh Son and Cu Lao Cham island on the far side of Hoi An.
The beach is full of coral, abundant flora and fauna, high slope, clear water which are suitable for those enjoying the type of leisure services like fishing, surfing, diving coral
and
yacht.
Especially, My Khe beach becomes more beautiful at sunrise and sunset. Besides, it also develops various kinds of services for tourists such as fishing, windsurfing, diving, yachting. Beaches have a rescue system including a watchtower, life saving buoys, signal flag. Furthermore, rescue forces are on duty all day and night and ready to rescue in time when there are victims.
5. Ky Co Beach – Quy Nhon
Ky Co beach (Quy Nhon) is like the Maldives of Vietnam, so it is becoming the hottest tourist destination this year.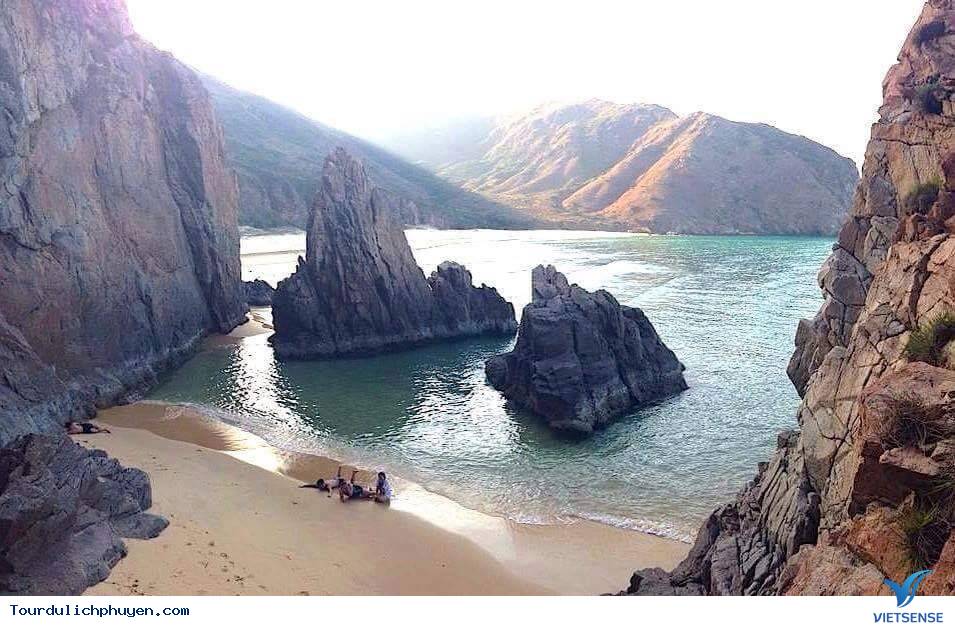 From Quy Nhon, you can go to Ky Co by the sea to watch the winding waves and enjoy the charming sea and mountain view.
Ky Co is the beautiful wilderness of the coast with spontaneous travel service but the price is very reasonable. You and your family can enjoy swimming, playing with cool water waves. You have to taste the seafood dishes having their specific flavor in Ky Co as all kinds of grilled snails, grilled abalone, crab, steamed squid,…
6. Sao Beach – Phu Quoc
Located in the south of Phu Quoc Island (Kien Giang), Sao beach is known as one of the most beautiful beaches in Vietnam because of calm waves and green sea water all year round.
Sao Beach converges the criteria of a beautiful beach like clear blue water, long beach, gentle slope, soft white sand. In the early morning, when the tide is down, the calm water surface reveals a long white sandy beach. And that is the moment when all activities at sea become the most bustling. Sports services on the water here are quite abundant as self-driving motor, kayak, banana boat, surfboard boat which visitors can easily find. Under the cool coconut palms, visitors can choose their favorite fresh seafood to enjoy or sip a glass of cool water with golden sun and sea breeze. Especially, because the fishermen in Phu Quoc island catch, seafood in Sao beach is always fresh.